Horseback Riding Lessons & Training Hume, VA Focus on the Fundamentals
Focus on the Fundamentals
Horseback Riding Lessons & Training, Hume, VAPacific Farms has operated for over 20 years with a focus on the fundamentals and safety in all disciplines of riding. We are a boutique business, specializing in concierge services tailored to the needs of you and your horse.
Located in Hume, VA, in the beautiful Old Dominion Hunt territory at Destinaire Farm, we are available for training, lessons, sales, and rehabilitation.
We offer a variety of clinics including LandSafe and Workshops. See clinics page for more information.
Meet Tom & Clare Mansmann
We are are life-long and generational horsemen, with experience through the CCI 4* level of Eventing, as well as Show Hunters, Jumpers, Dressage, Fox Hunting, and even a little ranch work.
Pacific Farms holds a strong educational background, with Tom and Clare having worked for and/or trained with top riders such as Jimmy Wofford, Wash Bishop, Mike Huber, Don Sachey, Will Simpson, Jessica Ransehousen, and David and Karen O'Connor, and continue to expand that education on a daily basis. They also both have extensive experience with Thoroughbreds, both on and off the track, and love helping owners transition horses from the track and into successful riding partners.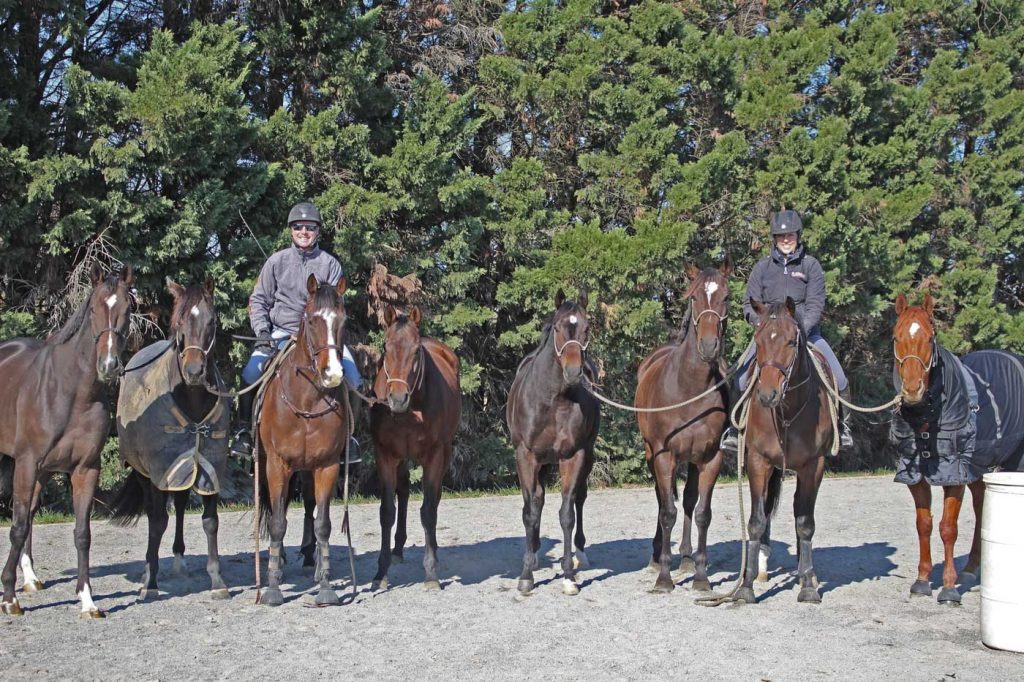 "With their move to Destinaire Farm, Clare and Tom Mansmann have found the final piece of the puzzle. They have a first-class training program, and now have an excellent facility to support their efforts. The farm's extensive fields and meadows have a calming effect on the horses lucky enough to be stabled there, and explains Clare and Tom's outstanding results in retraining thoroughbreds for competitive disciplines once the TB's racing career is over."
"With the guidance of Clare and Tom, within months I was entering dressage and jumping competitions, schooling over cross country courses, and having fun riding with like-minded people... I saw how riders of all levels found a place where they could learn and grow in the sport, whether a seasoned equestrian who needed a brush up in technique... or an adult who had never ridden before. There are many reasons to ride at Pacific Farms: the horses, the people, the countryside. If you have a goal, whatever it is, Tom and Clare will help you achieve it."
"I have had the opportunity many times over the years to work with Tom. He has always been kind, patient, and helpful when it comes to teaching. At the same time, he instills confidence in his students. As a result, it makes their horses more confident as well. I highly recommend him."
"Beautiful farm, run by fabulous people. Tom and Clare are kind and patient instructors who have done amazing things not only to progress my riding, but they've trained me how to better train my horse as well. They have a string of calm, but capable lesson horses and the most beautiful countryside available for outriding. Top notch training for all levels of people and horses. Plus, they're just a lot of fun!"
"They are by far the most well-rounded and professional trainers I have encountered in 20+ years of working with horses... Their calm, common sense approach puts a foundation on a horse that will last a life-time, and sets the horse up for success in any discipline, English or Western. They don't rely on gimmicks or gizmos to produce results, and they take the time to do the "boring" work to ensure the horses are safe on the ground and have excellent manners... I never hesitate to recommend Pacific Farms ... because I know that the Mansmann's will absolutely do the best job for the horse."